Archive for December, 2015
Posted by Dr-Pete
Earlier this year, Google rolled out the Related Questions feature (AKA "People Also Ask"). If you haven't seen them yet, related questions appear in an expandable box, mixed in with organic results. Here's an example from a search for "Samsung Galaxy S6″:
If you click on any question, it expands into something that looks like a Featured Snippet:
Currently, Related Questions can occur in packs of between 1–4 questions and answers. Here's an example of a box with only one question, on a search for "lederhosen":
Once expanded, a typical answer contains a machine-generated snippet, a link to the source website, and a link to the Google search for the question.
How common are related questions?
We started tracking Related Questions in late July on the MozCast 10K, where they originally appeared on roughly 1.3% of queries. Keep in mind that the MozCast set tends toward commercial queries, and the absolute percentage may not represent the entire web. What's interesting, though, is what happened after that. Here's a graph of Related Questions prevalence since the end of July:
You can clearly see two spikes in the graph — one measured on October 27th, and one on … Read the rest
December 30, 2015
Tags: +500%, Grow, Months, Questions, Related Posted in: SEO / Traffic / Marketing
No Comments
Posted by ryanwashere
Over the last 2 months, I've driven well over 6,000 organic Facebook visits to my site.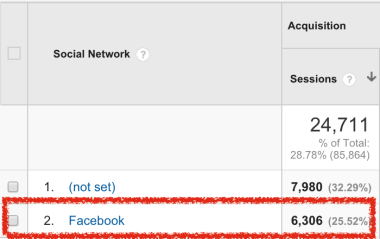 It's not coming from a Facebook Page; it's coming from a Facebook Group.
Several months ago I started my own Group, Digital Marketing Questions — this week we hit 3,000 active, engaged, spam-free members.
In this post, I'm going to retrace my steps and tell you exactly how to build your own Facebook Group.
What are the benefits of building a Facebook Group?
Before I tell you how to build one, I quickly need to talk about why you should build one.
Facebook might not be "cool," but it's crazy effective
All the kids left Facebook years ago for Instagram (now Snapchat) and a number of businesses gave up on Facebook marketing efforts when "organic reach" plummeted.
Despite this, there are still hundreds of millions of users still on Facebook.
In fact, Mark Zuckerberg posted a status a couple of months ago stating that for the first time in the network's history, Facebook had over 1 billion active users in a single day.
Let that marinate for a second.
Facebook is a powerhouse that isn't … Read the rest
December 29, 2015
Tags: Booming, Build, Facebook, Group Posted in: SEO / Traffic / Marketing
No Comments
Posted by kelseyreaves
The link building world is in a constant state of evolution. New tools are continually introduced to the market, with SEOs ready to discover what works best. Our outreach team at Modernize recently found ourselves in this position. In need of a new email automation service, we were eager to explore and test out new tools to see what improved our overall outreach system.
Modernize is in the home improvement space, and we focus heavily on energy efficiency and green living — thus, we target lots of green blogs, solar websites, etc. Our aim at Modernize is to be a resource for homeowners and provide quality content so homeowners can make informed decisions when it comes any home improvement project.
When faced with this task of changing our email automation service, we were pleasantly surprised to come across a more effective tool. This recent switch drastically increased response rates and ultimately our number of attainable back links. In an effort to help other link builders increase reply rates, I wanted to detail our process of switching from Get Response to Pitchbox, and how we eventually increased our response rate by 187% in only one … Read the rest
December 28, 2015
Tags: 187%, Case, email, Increased, Month, Rates, Reply, Study, Switching, Tools Posted in: SEO / Traffic / Marketing
No Comments
Posted by randfish
It's the season of giving, and that notion extends to search! Brand preferences have an almost tangible impact on several levels, from consumer affinity to a rankings boost on Google. In this holiday edition of our now-traditional Whitebeard Friday, Rand explains why it's important to keep brand recognition at the forefront of your strategy, and offers up a framework on how to get started on giving searchers a reason to prefer your brand.
Video Transcription
Howdy, Moz fans, and welcome to the special Christmas edition of Whiteboard Friday. Now, whether you celebrate Christmas or not, my family is Jewish, at least ethnically, but we still love Christmas. We used to get a tree and presents and all that kind of stuff. But Merry Christmas to all those of you who celebrate religiously or non-religiously, and to all the rest of you, hopefully you're having a lovely and wonderful December holiday break time, middle of wintertime. The sun's going to start getting a little higher in the sky. The days get a little longer. I'm really looking forward to that, … Read the rest
December 25, 2015
Tags: Brand, Friday, Giving, Prefer, Reason, Searchers, Whiteboard Posted in: SEO / Traffic / Marketing
No Comments
Posted by FeliciaCrawford
'Twas the night before Christmas, when all throughout Moz
Not a laptop was whirring, the office on pause.
The colorful Great Wheel spun slow on the pier,
Downtown Seattle alive with good cheer.
The Moz Dogs were nestled at home in their beds,
Dreams of dropped tacos alive in their heads.
And I, staying late to write on the blog,
Had just closed my MacBook, and downed my eggnog.
Whence from down the hall came a soft pitter-patter;
I arose from my desk to spy what was the matter.
Peering 'round corners, obscured by the dark,
Though I couldn't see who, something gave a small bark.
Then, lit by the glow of some USB lights,
To my eyes did appear a confusing sight.
With a fuzzy red cap and Muppet-like paws,
Lettie Pickles the Moz Dog looked like…Santa Claus?
Though smaller in stature, with pointier teeth,
Her red hat the colorful glow did enwreathe.
With a very stuffed sack and a beard mighty thick,
No way to deny, she looked just like St. Nick!
As I watched from the shadows, her night's work begun,
St. Pickles took off with her bag at a run.
From desktop … Read the rest
December 24, 2015
Tags: 'Twas, Before, Christmas, MozStyle, Night Posted in: SEO / Traffic / Marketing
No Comments
---
---
---