Archive for December, 2010
Posted by Jamie
We often get asked, "What apps do the SEOmoz team use?" To answer this question, we decided to put together a blog post with the Top 10 Web Apps We Love here at SEOmoz.
The SEOmoz team decided on the Top 10 apps below (in no particular order). However, we found we liked so many apps that we decided to include another 15 that are definitely worth mentioning. Take a look at our list and let us know your own favorite apps in the comments.
The Top Ten List (in no particular order)
---
Web Analytics
Google Analytics is an excellent free web analytics tool. Even if you have another analytics application, we think it's worthwhile to add Google Analytics to your site– it's that good. We use Google Analytics to report on the performance of the SEOmoz website and our online marketing campaigns. Our only requests? Real-time reporting, a referral report with complete … Read the rest
December 30, 2010
Tags: Apps, Love Posted in: SEO / Traffic / Marketing
No Comments
Posted by jennita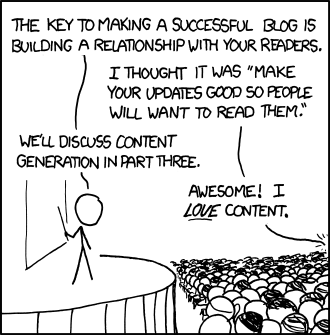 Earlier this month we gave you the top SEOmoz posts from 2010 based on the total number of thumbs up, traffic, backlinks and tweets. But that wasn't enough, and the community asked for more! You wanted to see the posts with the most comments and the comments with the most thumbs up (as I screwed that list up in the last post). So I decided to even take it one step further and see which community members commented the most in 2010 also.
The numbers were gathered on December 21st, so beware that some of them could have changed since then. Now that we have that out of the way, come along with me for a walk down memory lane.
Top Posts of 2010 By Total Number of Comments
It's interesting to note that this list consists mostly of SEOmoz launch posts (beta web app, Open Site Explorer), controversial posts and YOUmoz promoted posts. One could definitely come to the conclusion that search marketers like to give their opinions when the topic is a bit controversial! I also love to see that 2 of the posts in this category started in YOUmoz. Wahoo! Let's take a … Read the rest
December 29, 2010
Tags: &amp, 2010, Comments, Posts, SEOmoz, Users Posted in: SEO / Traffic / Marketing
No Comments
Many companies decide on a whim to jump on the SEO bandwagon without really understanding the ramifications. While SEO is becoming more and more vital to a successful business model, there are many things that need to be considered before moving forward. Below are a few points to get the juices flowing.
Marketing objectives
Seems like a simple thing, but you need to know how SEO will fit into the overall marketing objectives of your company. What will it accomplish? What do you want it to accomplish? Don't just do SEO because everyone else is doing it. Do it for a specific reason.
Timing is everything
Don't rush into an SEO campaign because you are feeling pressure to get results. Here are some timing considerations to think about before you move forward:
Seasonality. Does your industry have a high and low season? If so, then you probably want to start your SEO in the low season. This way, you are in prime positions during your high season to capture key traffic.
Website redesign. A new site launch is a big deal, and yes, it DEFINITELY affects SEO. If you want to start an SEO campaign, but you know in … Read the rest
December 29, 2010
Tags: Before, Engine, Know, Optimization, Search Posted in: SEO / Traffic / Marketing
No Comments
Posted by randfish
December has been a surprisingly busy month for my email inbox, with questions on nearly every SEO subject imaginable. In answering many of these quandries, a common theme emerged – that many marketers engage in SEO challenges with a singular focus on the most common / best practice techniques and don't stray into a creative, imaginative mindset to find alternatives.
Here, then, are six examples of problems I've seen where creativity might prevail over standard techniques.
#1 – High Budget Reputation Management Issues
Several SEOs I know are currently involved in high-budget reputation management, where a company, product or person is attempting to assert control of the search results for their name/brand. Most of the standard techniques involve linking to and/or creating positive or neutral content about the target to push down the negative content.
A creative, alternate methodology might be to create diversity by introducing multiple brands/people with the same or similar names. For example, if a Mr. Thomas Thompson is attempting to push down negative results for his name, you might seek to boost up the profiles/rankings of other Thomas Thompsons and generating buzz about them to make the engines consider applying diversity algorithms … Read the rest
December 28, 2010
Tags: Challenges, Creative, Solutions, Tough Posted in: SEO / Traffic / Marketing
No Comments
Posted by Paddy_Moogan
Howdy SEOmozzers! Hope you are all enjoying the Christmas break. For those of you still looking for SEO goodness to read around the holidays, I've put together this post on tools that Google provides that you can use for SEO tasks.
We all love SEO tools because they can make our lives so much easier. Members of SEOmoz know this better than most with the array of tools that SEOmoz has. However we always want more as there are always some tasks that can be automated or made quick by using a tool instead. Google actually provides tools that can assist with SEO tasks; some of them you may know about, others may be new to you. Either way, I wanted to give you a run down of ways you can use Google to help with SEO tasks.
Just as a quick sidenote, Google actually has an SEO guide (PDF link) which is pretty good as both an introduction and a reminder of the basic principles of SEO and how Google works. It amazes me how many SEOs don't read into the technical side of Google and how everything works behind the scenes. This guide helps … Read the rest
December 27, 2010
Tags: Google, More, Need, Some, Tools Posted in: SEO / Traffic / Marketing
No Comments
---
---
---